Cetewayo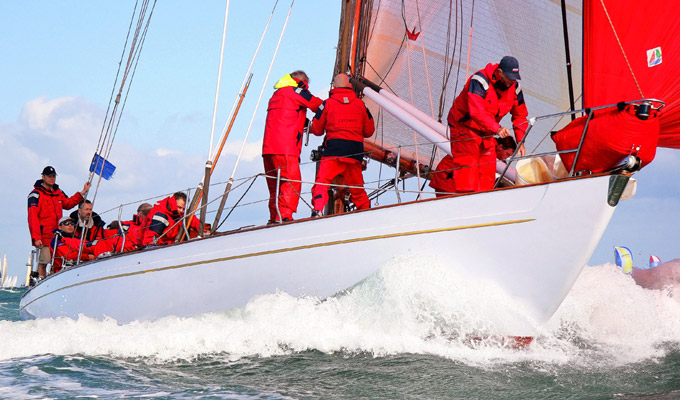 Cetewayo, named after the Zulu king, is a yacht of exceptional pedigree
Cetewayo was designed by Laurent Giles and built on speculation by Morris and Lorimar on The Clyde. During her construction she was sold to Sir Henry Spurrier who considered the names "Assegia" and "Chieftain" before settling on "Zulu". She was then launched in 1957 with the sail number 373. Her second owner, Brian Stuart, sailed her in RORC races for many decades. Her third owner sailed Cetewayo from her mooring without full payment and hid her in a small creek.
In 1989, her fourth/current owner David Murrin the BCYC Commodore found her, a hollow hull abandoned and rotting in Pembroke Dock. She was restored over a period of 15 years. Initial reconstruction work allowed her to be sailed to the Hamble where she was brought up to her current condition. During the '90s she had many wins against the modern IRC fleet in both offshore and onshore races.
Modifications include the installation of a new Perkins engine forward of the mast, with a hydraulic drive which allowed for greater space in the galley and adjusted the trim of Cetewayo to her original lines. The transom was rebuilt to accommodate running backstay winches supporting the rig with its complement of vast masthead and fractional and symmetrical spinnakers.
Since 2001 Cetewayo has been chartered regularly and predominantly in classic events, including every BCYC Regatta, with some spectacular results.